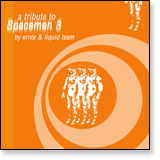 Liquid Team vs Ernte
Spacemen 3 covers 7"


extract 01
extract 02

A split project between german band Ernte and Liquid Team, a french power pop quatuor. Both formation being absolute fans of the Spacemen 3 (who then split into Sonic Boom, Ear and of course Spiritualized), soon came the idea to make a special tribute to this band as a ltd edition vinyl for the first ::Mimikaki:: release.

Ernte covers "Walking with Jesus" from the Perfect Prescription LP while Liquid Team covers "Feel so Sad" from the last Spacemen 3 LP Recurring. 100 copies in orange vynil and 300 in black vynil.